Change Year Levels
If the Year Groups on your Trip have changed you'll want to update the Trip so Attractions are aware of the change.
To do so select the MANAGE BOOKINGS option from the sidebar and find a Booking on the Trip you want to update.
You can view Trip/Booking-related information and perform actions such as Editing a Trip, by clicking the '…' symbol in the BOOKING NUMBER column, as shown below.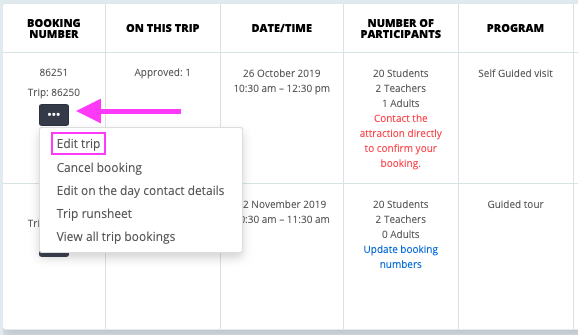 This will take you back into PLAN A TRIP for this Trip.
In the box at the top, click the VIEW/EDIT button to show the Year Groups on the trip.


Make the changes needed to the selected Year Groups then click the SUBMIT button.
The availability grid will reload to reflect your updated Year Groups.
Once this is done, proceed through the PLAN A TRIT steps and submit your changes to the Attractions.